MORRIS DANCE ORGANIZATION
The North American Morris Organization (NAMDO) is a nonprofit association of representatives from self-governing Morris teams and individuals, which aims to: promote and maintain interest in the practice of Morris dancing by people of all ages; serve as a hub for Morris dance activity; support the preservation of North American Morris dance history; and be part of the ongoing development, education and innovation of Morris dance in all its forms.
<!=========Events list Template 1.6.3=========>
There is no Event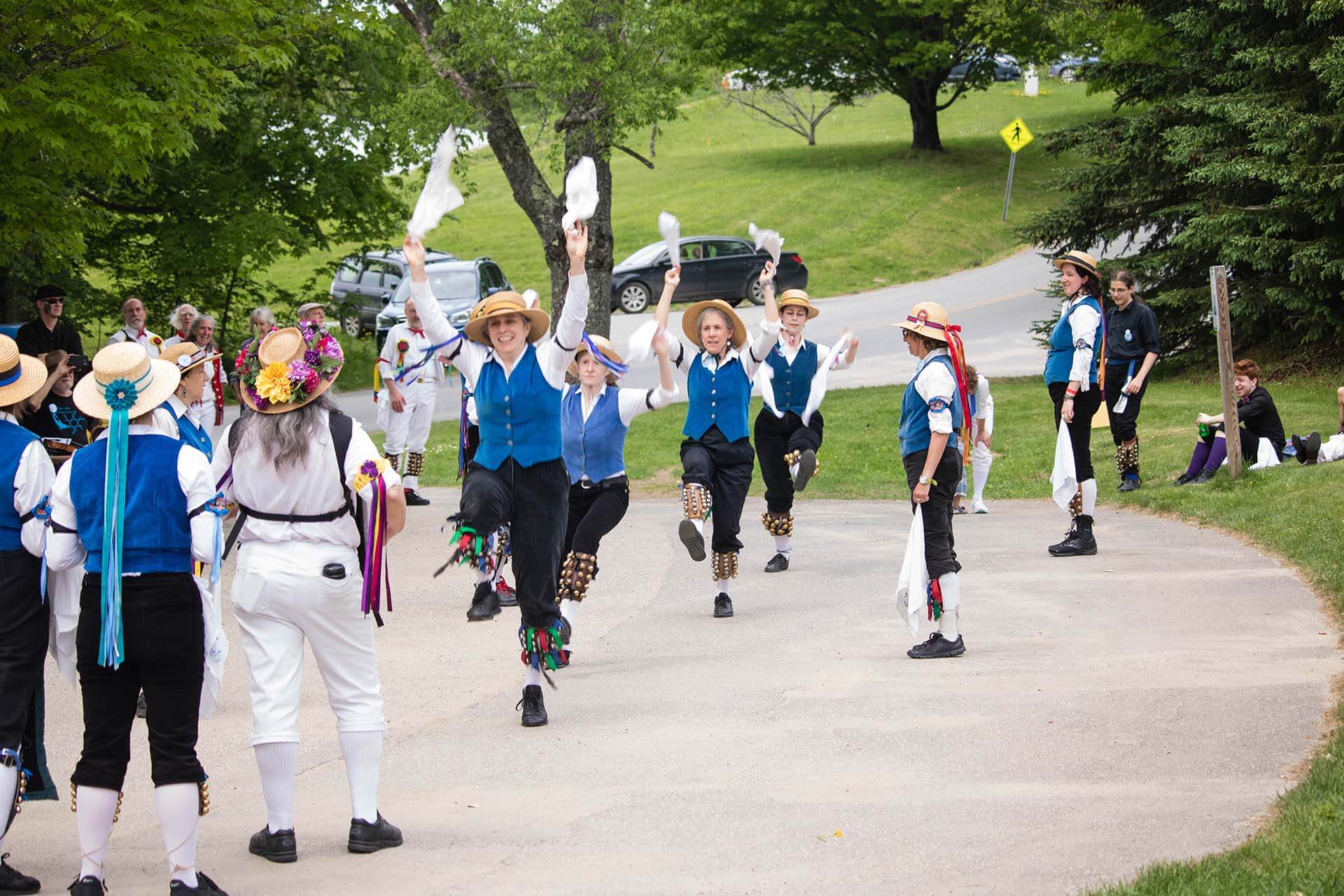 Performed with hankies and sticks, often in costumes of white with ribbons, baldrics or waistcoats and decorated hats. This style, originating in the English villages of Gloucestershire, Oxfordshire, Northamptonshire and Warwickshire, is often what first comes to mind when the words 'morris dancing' are heard.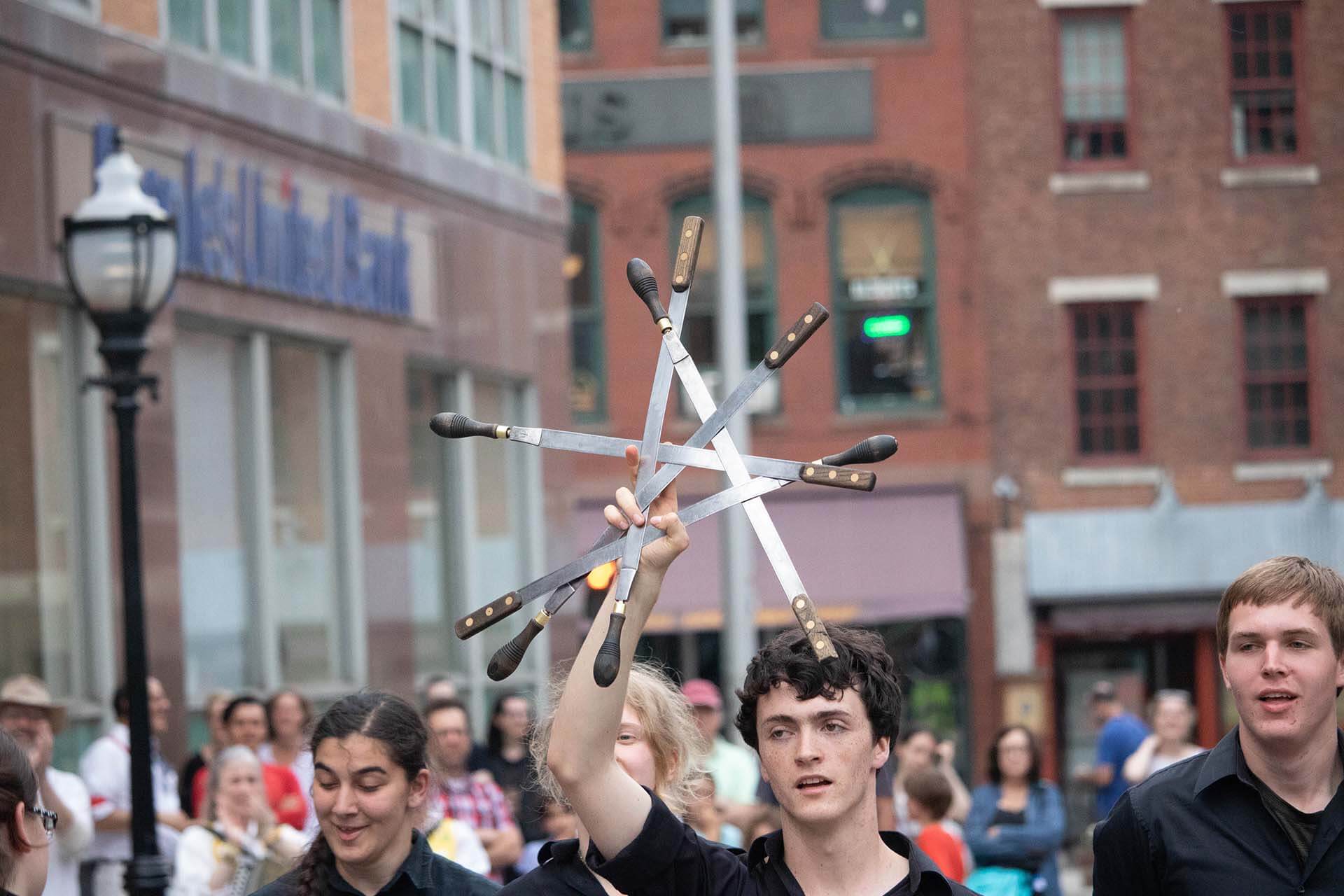 Widely believed to have originated in the North East of England.   Rapper probably developed  from longsword dances. The dances were originally performed during winter and as part of a longer production featuring a play. The advent of high quality flexible steel to replace the rigid structure of the longsword has led to the dance developing greatly in complexity – many of the figures involve interweaving movements that would be impossible with more rigid swords.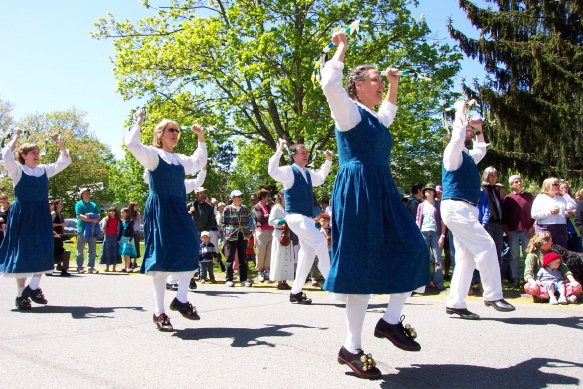 The original dances were inspired by workers in the cotton weaving industries in the North West of England.  The patterns danced represented the designs and working of the looms and shuttles. Many were associated with rushbearing celebrations which led to the processional nature of the dance.  Wood soled clogs with iron or rubber shoes lend to the unique aspects of this dance form.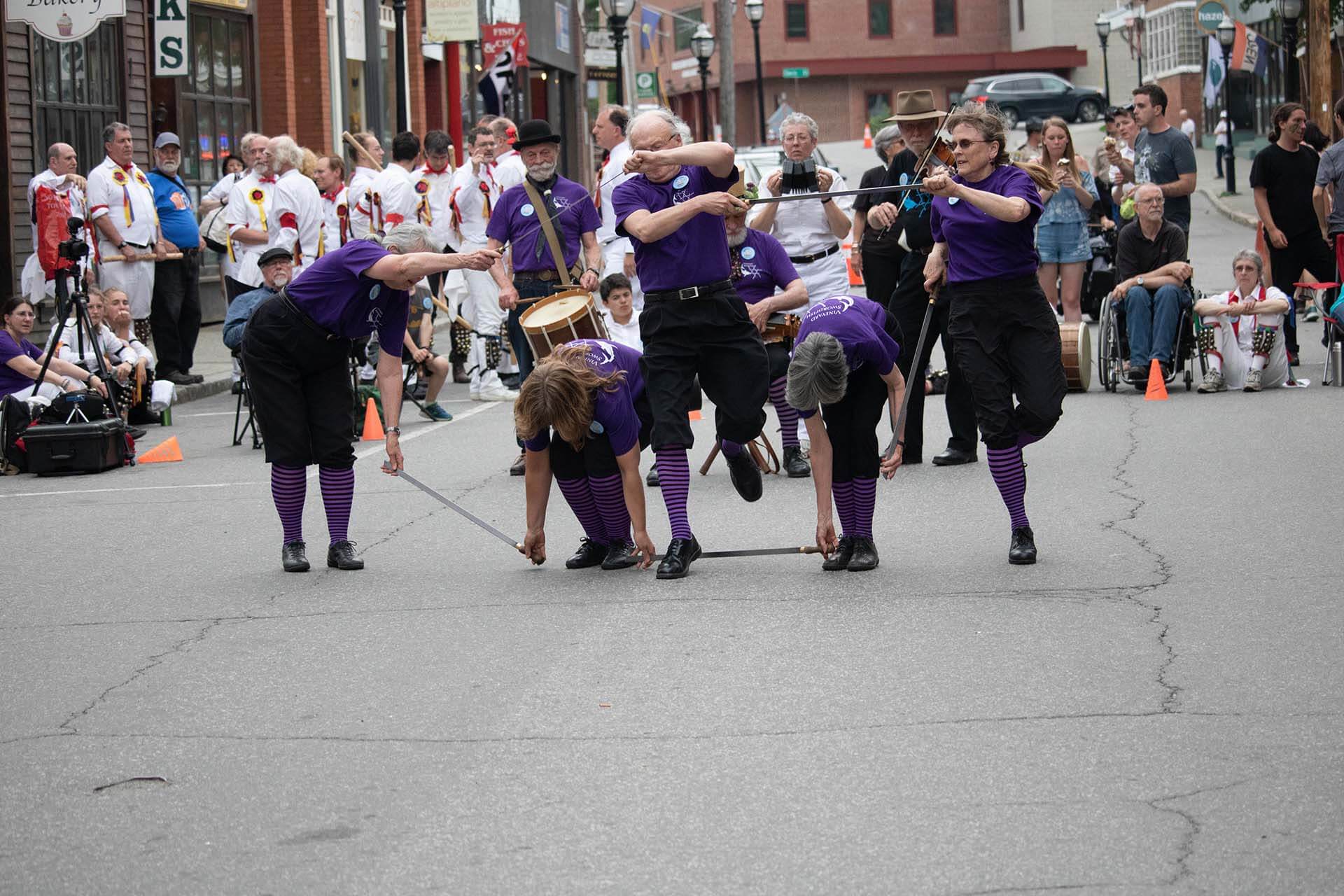 From Yorkshire in the North of England. The swords are rigid and have only one handle. They usually feature six or eight dancers dancing together in a circle. Together they perform various figures involving the interweaving of people and swords, but never breaking the circle until the climax of the dance when the swords are locked into a six or eight pointed star which is held aloft. Many Yorkshire villages had their own unique dance.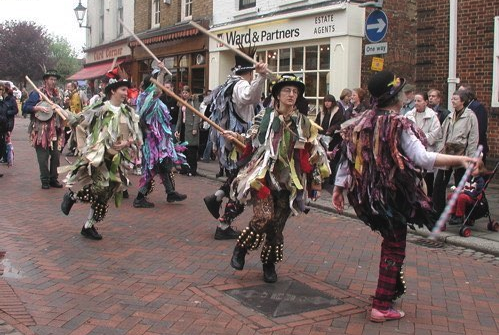 Orginating in the Wales/England border counties of Shropshire, Herefordshire and Gloucestershire, this style is often looser, more energetic and just a little bit wild. Performers wear tatter coats and often paint their faces or use other forms of disguise.  Beware!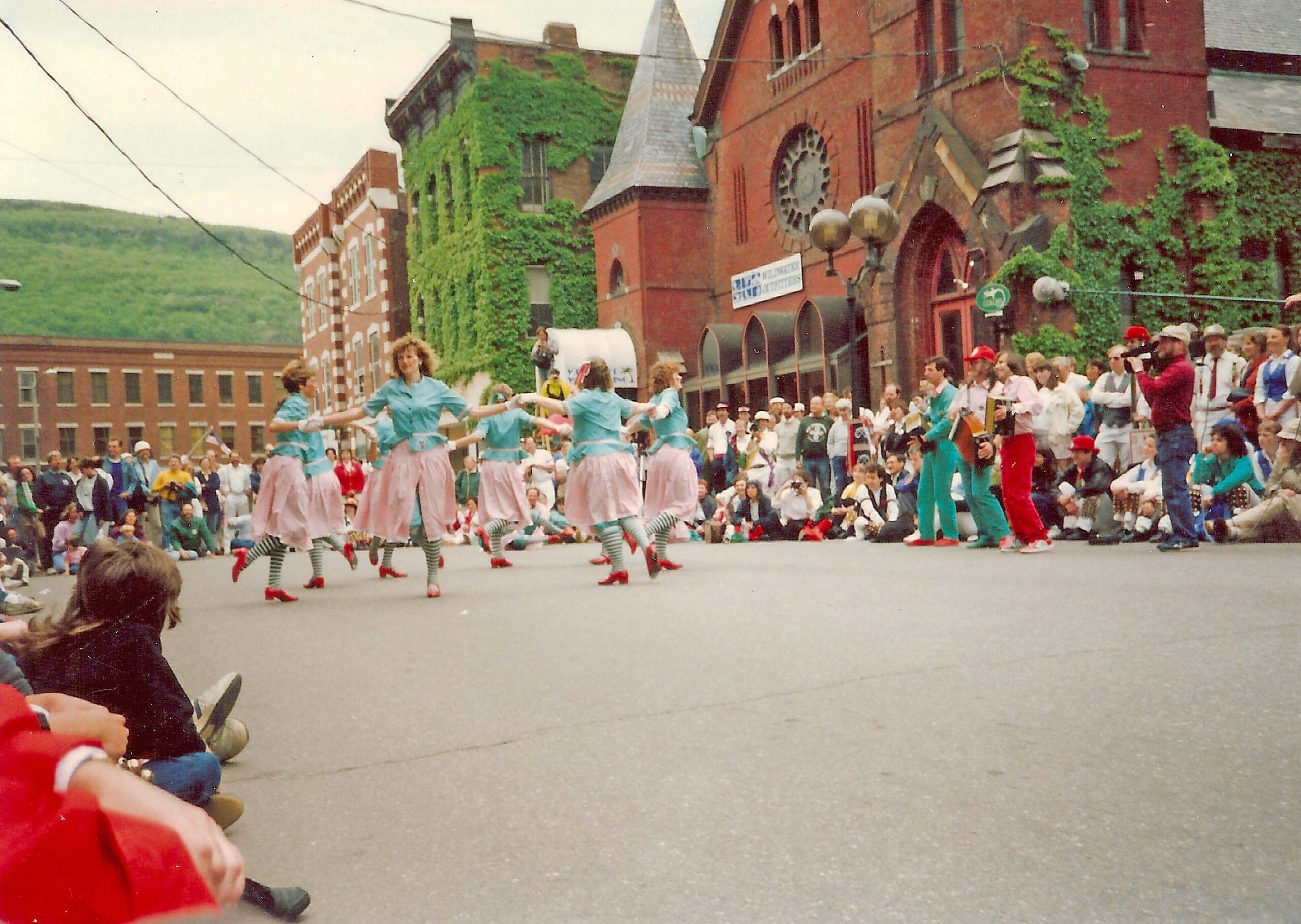 Firmly routed in the Cambridgeshire Fens and areas around the Wash in England.   It has developed alongside Ploughboy/Plough Monday celebrations at Epiphany and in some sites Straw Bears. It is recognizable by striking costumes and pronounced footwork.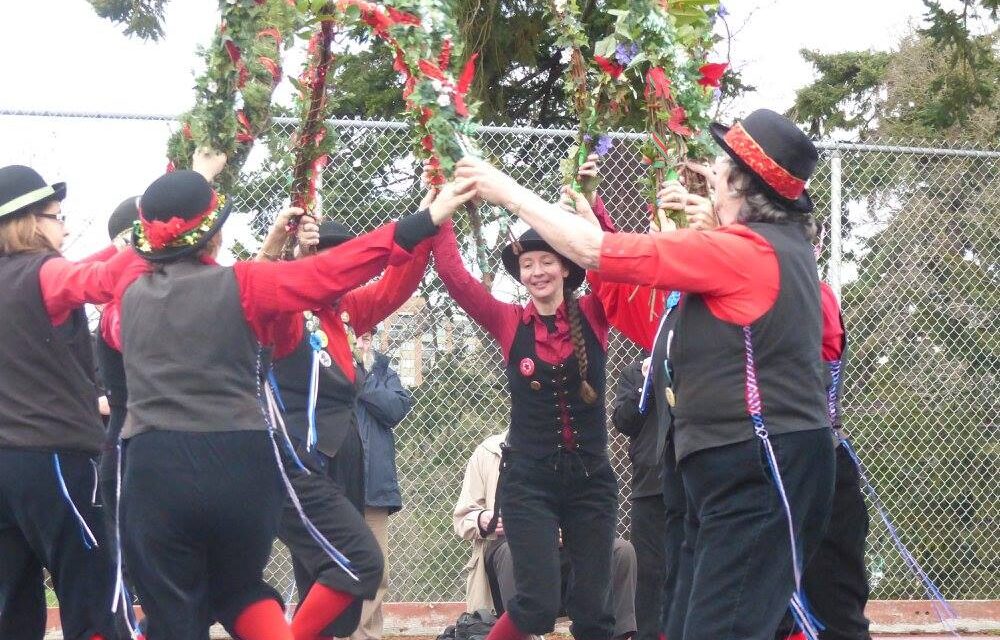 Garland dancing is an English dance tradition that began in the 19th century in North England's mill towns.
The Industrial Revolution was centralizing people, bringing rural folk to factory work. As country girls moved to new industrial cities, they brought with them dancing traditions from many rural areas. Garland dancing was a new combination of familiar movements, made more picturesque by flower-covered garlands. Mill owners encouraged garland dancing as a form of healthful exercise that also brought beauty to company events and town parades.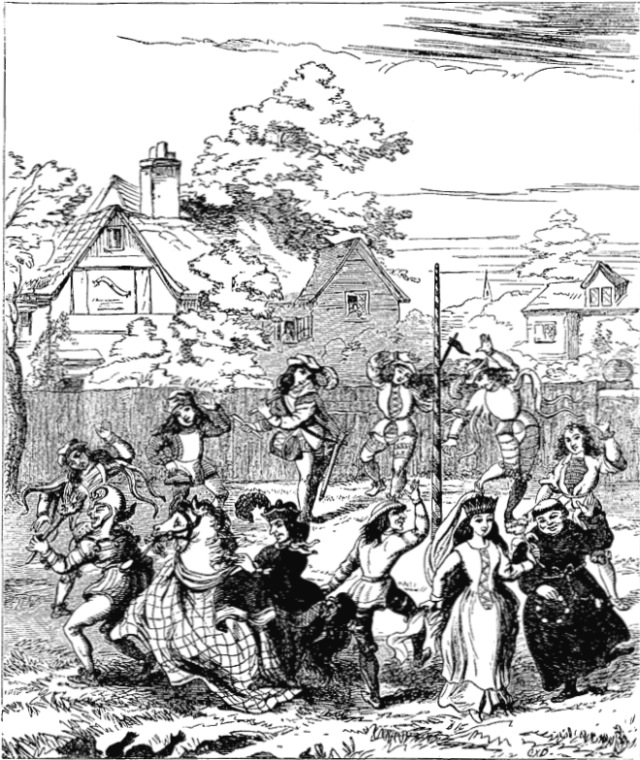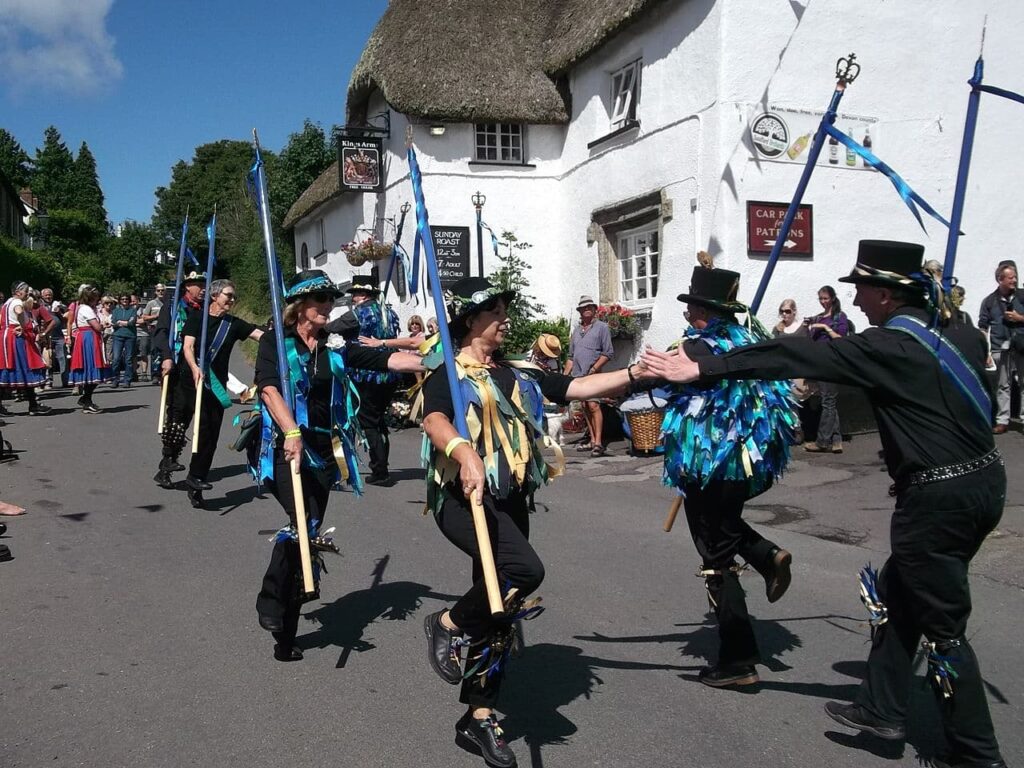 A style of folk dance from the Southwest of England, especially Somerset, Dorset, and Wiltshire, where teams of dancers carry long decorated poles, known as staves, over their shoulders whilst performing. Few original dances are known, with most of those now performed originating from a small group of villages in Somerset and Dorset, notably Stourton Caundle and Fifehead Magdalen, although many new dances have been choreographed within the style.
Currently we're operating on limited resources with volunteer help. Join us!

Thank you for the support!  We are legally incorporated in the Commonwealth of Massachusetts and registered as non profit, 501 (c) 3 organization with the IRS.